Orange, red, yellow, brown...
the colors of fall.
But there are flowers in fall
that seem to shout out a last "hooray"
as summer's hot temperatures dissipate
into cool breezy days
followed by cooler "sweatshirt" nights.
Asters are a favorite of mine.
They come in a variety of colors and hues
as well as heights.
They bloom for countless days
and carry their beauty well in a vase for a week or so.
These vibrant purple aster are a favorite of mine.
I found this old cream cheese box out in my husband's shed
while rummaging for a tool to rescue an idea I had
that went bad.
The cream cheese box soothed my miserable spirits.
Cream cheese can cure any ill feelings,
but an old box is even better.
Mums are another fall festive feature.
I have sentimental feelings for mums
as my aunt bought numerous pots of maroon mums
to decorate the wedding hall
for my farmer and I.
They always remind me that I need to
rack my brain on a gift for the Farmer.

Any suggestions for a man who says he doesn't need anything
would be greatly appreciated.




This fall-themed tea light holder
was rescued from the charity store on a recent visit
for a couple of dollars.
Mums and some decorative grass were set inside a canning jar...
and I have happiness in the bathroom.
Sedum are a favorite of mine:
They may not be bold in their beauty like roses or tulips,
but their rugged dependability...
variety of heights and colors...
and abundant bee love make them a staple in all my flower beds.
We've counted over 40 bees on one small patch of sedum.
They keep indefinitely in a vase,
it seems,
and are great to dry as well.
Of course, not everyone has access to fresh flowers,
but the variety of artificial ones are countless.
This cinnamon broom caught my eye,
and the strong smell guaranteed to remove the last
of the damp smell from the flooding we had in the basement a few weeks ago.
The straw ties were easy to disassemble,
leaving me with plenty to divide
so I could spread the sweet smell all over the house.
The cinnamon smell makes up for having to use artificial vegetation
although it seems to make me continuously hungry for apple pie.
Hmmm....
apple pie may find it's way on the menu
for an anniversary dessert.
Linking up to these fun places: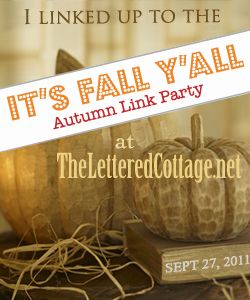 Centsational Girl